Few things make a server panic more than their manager using the word "upsell." Even though upselling should be a big part of what servers do, they're often afraid to seem too "salesy" to their customers. But any good restaurant manager knows that if their staff doesn't upsell, the restaurant can lose hundreds or even thousands of dollars in potential profit.
As a manager or executive, it's important to educate your staff on the ins and outs of upselling. Not only should your servers and bartenders make the sale, they should also read the customer and anticipate their needs. It's a leader's job to help them understand how. Here are some great ways to educate your staff on what upselling really is.
Getting Your Staff Comfortable with the Upsell
Start with the Menu. Maybe you really think your staff knows the menu, but that may or may not be true. Never assume that just because a server's been around for awhile they know the menu front-to-back. A quick pop quiz could reveal that they don't know as much as you think they do.
Go over the menu with your staff often and welcome and encourage questions about it. A study by Cornell University determined that if servers seemed more knowledgeable about what they were selling, then customers were more likely to take their recommendation. Knowing the menu is key!
Give a Taste Test. Every server should get a chance to try your restaurant's specials and signature items. If a server can't speak from experience when asked about menu items, it'll be extremely difficult for them to be convincing.
When a new menu item comes out, make sure to give everyone an opportunity to try it. This costs a little bit up front but is guaranteed to increase your sales on that item. Make sure to ask your servers to describe the dish to you after they try it, and coach them based on how they do.
Explain What Upselling Really Is. If your staff feels that upselling is just a sales tactic, they're guaranteed to feel awkward doing it. Once you explain to your servers that upselling is a great way to educate customers and make them aware of other options, it's less intimidating for them to do it. It's possible that a customer would really prefer a better quality of alcohol in their drink or a dessert to round off their night out, and it's up to your wait staff to let them know what's available.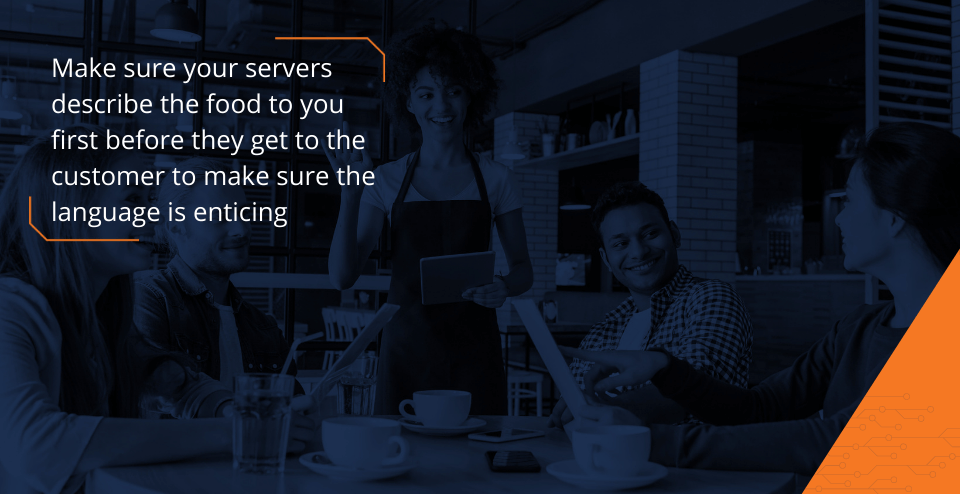 Once your servers have a better understanding of what you're trying to accomplish with an upsell and can really sing the praises of your menu items, give them practical tips on how to execute the perfect upsell. Here are some of our favorites that are server-tested and customer-approved.
5 Upselling Tactics to Start Using Today
Use Descriptive Language. As we said earlier, the servers need to try the food! It's impossible for someone to use the most accurate descriptive language about something if they haven't tried it. Make sure your servers describe the food to you first before they get to the customer to make sure the language is enticing. It might be awkward at first, but eventually everyone will get the hang of it.
Learn How to "Read" the Customer. Servers need to change their upsell approach based on the person they're serving and the time of day they're serving them. If someone's in a hurry around lunchtime, they might not be looking to add a glass of wine or a dessert to their bill, so try upselling the meal instead. If it's dinnertime and your guests are looking through the drink menu, that's a great time to make suggestions on drinks and food pairings.
Use the 25% Rule. The most ethical way to upsell is to not push an item that's over 25% more than the customer was originally intending to spend. You don't want to make someone feel bad because they can't afford a drink you're suggesting that's twice as much as the one they originally ordered.
Give Options. But not too many. When a server is offering an upsell, it's a great idea for them to give the customer a few options so it doesn't seem like they're trying to push a specific item for their own benefit (remember, the server should be meeting the customer's needs). For example, if a customer orders a margarita, offer them a couple of tequila options, something like "would you like Patron, Cuervo or the house tequila?" This puts the ball in their court and is a low-pressure way to suggest potential upsells.
Be Specific. When a server says something like "would you like dessert?" they make it really easy for the customer to say "No, thank you" and move on. But when the server gets specific and says, "would you like to try our peach cobbler with homemade vanilla bean ice cream tonight?" they paint a tantalizing picture that's hard to refuse.
Be Patient, and Watch Your Sales Grow
Once you change your server's mindset about upselling and get them using the right tactics, you'll slowly but surely start to see it impact your bottom line. It takes time for the staff to get comfortable, but after some practice, it should become second nature.
Before you change your tactics, be sure you're measuring your sales properly. You want to ensure you can attribute any increase in sales to the new upselling tactics you've implemented. By using software like Decision Logic, you'll be able to tell where your sales come from and what you need to do to increase them even more.
An upsell doesn't have to be "salesy" and awkward. In fact, it's one of the best ways to grow your business, keep your customers satisfied and increase tips for your servers…sounds like a win-win-win to us.