If 2021 was about recovery, then 2022 is all about resurgence.
We can't say that staffing challenges, crowd fluctuations, and tech evolution are behind us. But the restaurants who succeed will be those who anticipate and respond to market disruptions in stride, seeing opportunities where others see obstacles.
Decision Logic was designed from the ground up by restaurateurs with the backing of world-class technologists, not the other way around. We understand what enables restaurant concepts to thrive and where it's possible to improve profits and operations in the margins, bringing growth and stability to an unstable market.
In 2022, restaurants that succeed will be those who take a closer look at how to improve restaurant performance. And here's how that's possible with Decision Logic.
Smart Inventory
The back office is where savvy restaurant executives can find significant cost-savings.
It starts with inventory. As inflation escalates, it will become more important than ever to keep prices in check by constantly reviewing your suppliers, adjusting your order totals, and not letting food go to waste.
Decision Logic's inventory and ordering software helps you track inventory variance at the frequency of your choice, even down to the day, with intuitive dashboards that display this information instantly. You can compare performance between shifts, between time periods, and between stores.
These insights help you take note of potential operational improvements. Variance in ingredient ordering can ultimately lead to waste, so if you can begin to understand why this variance occurs, you can make adjustments that help your teams across the country save money. This will help ensure everything that comes into your stock room goes onto the plate rather than the trash.
This is further accomplished by tracking ingredients down to the exact portions you require for each item on your menu. You'll see how much "bang for your buck" you're getting with your suppliers, especially when their bulk quantities or prices are adjusted to account for their own rise in costs. You can then use this information to track menu strategy and adjust training so portions remain consistent and you can increase your profit per item.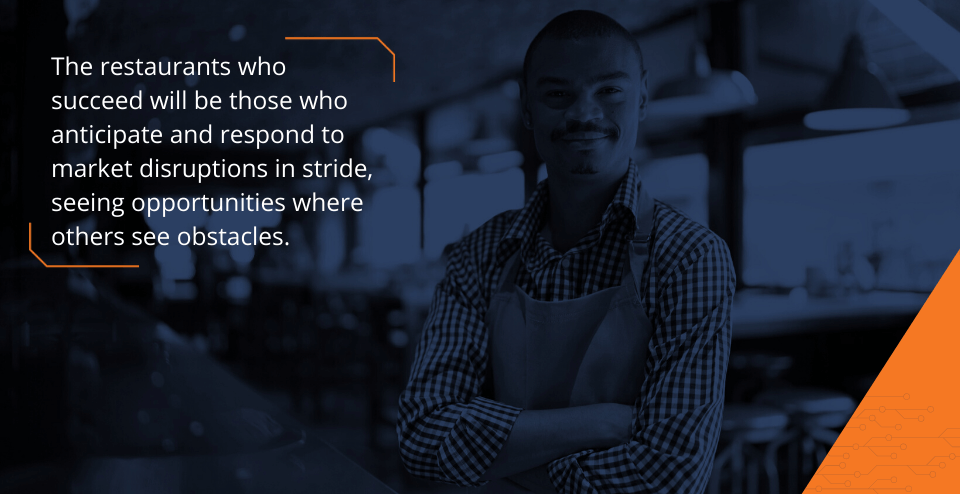 Scheduling Made Easy
There's a generational disconnect between the technology used by the people making the schedules for employees, and the employees awaiting those schedules so they can plan their week.
Decision Logic bridges the gap with Employee Central, a way of plotting schedules that's intuitive and straightforward for general managers but that offers the functionality team members expect from their apps.
GMs can create and push schedules to employees on those employees' phones, letting them immediately see when they're working. Employees have the ability to create their own unique log-ins and swap shifts on the fly, saving time for both themselves and their supervisors.
Streamline Your Apps Through Integration
One of the most important time-savers in back-office restaurant operations is being able to unify the data that's available from disparate systems.
At the very least, you're likely using Point of Sale software, an online ordering system, and an accounting system (and these are only the beginning for many restaurants). Decision Logic integrates with the major providers of all these, plus many more. And if an integration doesn't already exist, our team will provide a custom integration to make sure the data flows as necessary between the apps.
This kind of ready-to-go integration eliminates the need for manual data entry. For example, when the information from your accounting tool pulls seamlessly into your back-office management solution and vice versa, hours can be saved each month, and there's far less chance of human error.
These integrations are safe, keeping the data secure, especially in comparison with manual imports, exports, and entry of data into spreadsheets that might not be adequately protected.
Protect From a Breach
Security also extends to the rest of your restaurant operations thanks to Logic Shield, Decision Logic's premier cybersecurity solution.
Any restaurant with a POS system is required to comply to certain data security standards established by the payment card industry (PCI). PCI compliance protects your customers' cardholder data and your own brand security.
Should your concept be the target of a cyberattack, you can be held accountable for that data being compromised. This can cost your organization millions of dollars and damage your reputation in a way that's impossible to recover from.
Logic Shield is single-pane-of-glass software that works with your POS and other systems to monitor for and protect from cybersecurity breaches. Through firewalls, threat identification, and intervention procedures, Logic Shield can help cordon off suspicious traffic and neutralize viable threats, helping your operations run smoothly even if an attack has occurred.
Service with a Smile
The restaurant industry has been through a lot. Finding qualified employees is tougher now than at any point in recent memory. Teams are short-staffed and frustrations can mount in this environment.
You want to take any steps you can to address this and improve the guest and employee experience. The aforementioned Employee Central app is one way, but it's not the only way. The more you can get your general managers away from data entry and manual back-office work, the more time they'll have to assist guests and staff at the front of house.
That's where the Digital Manager app comes in. Decision Logic Digital Manager automates manual processes and enables managers to do things on the go that they previously would have had to set aside hours at a desk to accomplish. Line checks, temperature compliance, waste tracking, training, and more can all be accessed via the mobile app, through standardized processes that are streamlined and allow tasks to be accomplished fast.
This leaves more time to assist guests and assist the team assisting those guests.
Don't Suffer from Restaurant Performance Anxiety
Increased operational efficiency is possible, and so are the heightened profits and lower costs that follow.
Decision Logic was created to power up performance, giving restaurant executives an edge thanks to streamlined workflows, straightforward inventory management, and unprecedented control over data. Schedule a demo and see for yourself how Decision Logic can be the difference you need to improve restaurant performance.