More new features for Employee Central! We are excited to roll out the latest software updates to all Decision Logic users including MORE enhancements to the labor and scheduling model.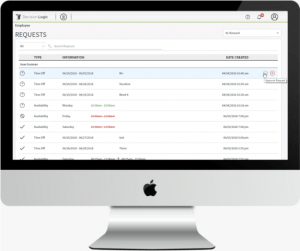 Requesting Time Off is Easy
Request date or date range for time off
Provide reason for time off request
View pending, approved, and denied requests
Approving Requests
Managers can Approve or Deny requests, changes to availability and time off in the Employee Requests page.
Manage Availability on the Go
Employees can request changes to availability on their phones by going to the Employee Availability in Employee Central
They can see Activity History of Approval or Denied in the Activity History section of Employee Central
What Else Is New in 4.16
Employee Central

Employees can request availability changes.
Employees can request time off in advance of schedule being created

Labor Scheduling

Employee Availability page has had a facelift.
Managers now have the ability to copy shifts.
Managers are now able to view employee availability change and time off requests via the new Employee Requests page.
Previous years sales have been added to forecasting.
Hours and Labor Percentage are viewable at the same time when writing a schedule.
Managers now have the ability to force users to enter a forecasted sales number for the scheduled week.
Some user interface changes have been made based on feedback.

Minor Waste Sheet updates/bug fixes

Applying waste in one unit will always display in the same unit on the Waste Sheet Reasons report.
The price in Waste Sheet Reasons report will now accurately reflect the amount of waste based on the unit of the item wasted.

The Payroll Report "error" fields now properly display as red again.

The IVA Home report now properly displays when you select Print Ingredients.

The Vendor Portal in Distributor Maintenance has now been removed.