When you manage a location or multiple locations for a well-known restaurant brand, you live at the intersection of policy and customer service.
On the one hand, you're expected to get out of the kitchen, greet guests, handle any conflicts that arise, and basically ensure that the front of house operates smoothly throughout the day. But you're also expected to spend time mapping procedures, scheduling and training employees, managing inventory, and overseeing the long-term strategic growth of the locations under your stead.
(Not to mention, you may be expected to step in to just about anyone's role at a moment's notice if someone calls out from their shift.)
With so many responsibilities that fall to you as a manager, it sometimes helps to ask the question: are you empowered to succeed?
Restaurant managers should consider a few key things when pondering if their environment is set up for success.
Best Practices…with Room for Experimentation
Concepts achieve success for a reason.
Through a combination of high-quality food and operational excellence, most concepts develop a long-term model for success by the time they're expanding to multiple locations. The biggest, most successful brands in the world know precisely what their margins need to be, who they're ordering from, how to prep ingredients, and how to staff locations. They arm their franchisees and managers with this knowledge to ensure the best possible odds of success.
Yet these brands would be among the first to tell you that their best practices should never be completely static. While some aspects of business may remain the same for years, there's a fluidity to the restaurant industry that needs to be matched within operations to remain efficient and successful.
As a manager, you have a unique viewpoint on the behaviors of guests and team members. So you want an environment that's receptive to your feedback and even your experimentation.
When you can report dining and labor trends up the chain to the corporate level and be heard, you have a chance to put your own stamp on your concept. Better still, you want to be in an environment where you're encouraged to try new things based on your own guest feedback and what you've observed in-restaurant.
You always want to follow best practices…but you also want to be empowered to adapt those practices to suit your own needs or, at the very least, offer up suggestions that can affect the strategic direction of the concept.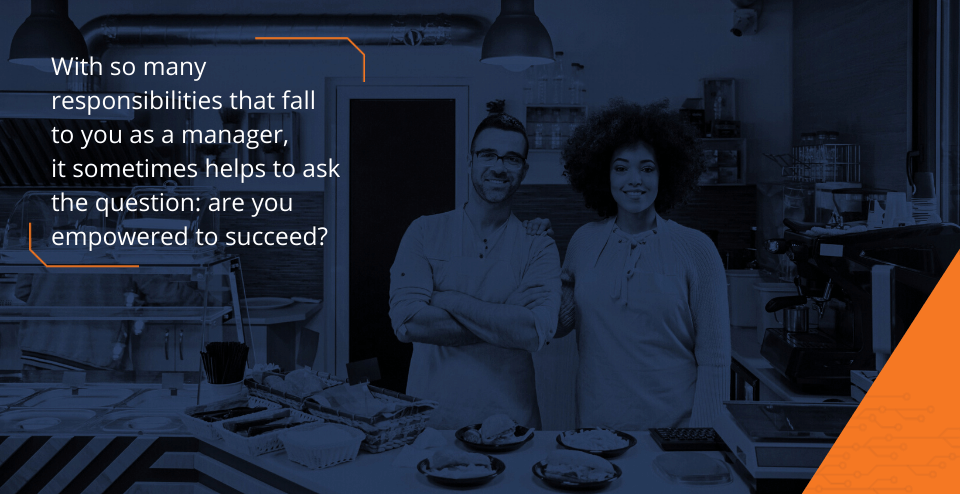 Out and About
An empowering environment is one where you can strike a balance between the back office and the front of house.
You've likely developed a cadence where you know the times you need to be deep into number crunching, ordering, scheduling, etc. and the busy hours where you need to be out on the floor.
If you're like many managers, you probably wish that you could be out on the floor even more. The most successful restaurant concepts support that goal through technology and procedures that enable you to oversee every aspect of your restaurant operations even as you deal with the everyday minutia that crops up while running a successful location
One of the best ways to accomplish this is through mobile, app-based systems that allow you to do things like order products, take inventory, communicate with staff, and take orders on your phone or tablet on the fly. The act of sitting down at a computer at an office often acts as a kind of mental barrier between the two primary sides of the manager brain, making some feel like they can't ever balance the two evenly throughout the day.
But if you're able to take the back-office work with you, you can more easily manage the various aspects of the restaurant while taking time when you can grab it to oversee operations.
Dream Work Makes the Team Work
Perhaps no one is affected by an ongoing restaurant labor shortage more directly than restaurant managers.
As such, talent management is one area where you should be uniquely empowered. You should be encouraged to offer insights into your labor market and have the ability to adjust a variety of procedures, including recruiting, hiring, training, and even wage calculations as necessary.
A large part of acquiring and retaining talented employees also rests on the environment you create for your team. This is yet another area where you should be able to alter procedures to accommodate your unique needs and the preferences of your employees.
A tech-savvy talent pool means you need tech that's up to the task. It means the adoption of electronic point of sale systems, sure, but also inventory software and scheduling applications. It also means cross-training so individuals can fill in for one another and grow within the company. You might even have to rethink stressful operational practices or, if a little tension can't be helped (this is the restaurant business after all), flexibility and improved pay to compensate.
You know your team members better than anyone else within the concept could. You can and should act as an ambassador to them from the corporate team and vice versa. When you do this, your team will see your leadership and your restaurant(s) will succeed as a result.
Your Security Picture
One thing that often gets overlooked (but absolutely shouldn't) in restaurant operations is the cybersecurity picture of your restaurant.
Once again, you have a unique insight into this. As someone who works within the software and hardware architecture of your brand on a daily basis, you know what typical internet traffic consists of, the various networks under your purview, and more.
Because Payment Card Industry (PCI) compliance is so important, you should have a keen understanding of how to keep your customers' cardholder data safe. The best way to do so is through a single pane-of-glass solution that offers visibility to both you and your head of IT. This access should be locked down to these parties (or anyone else who has a distinct business need for doing so).
When something is flagged for investigation, you should have a set of procedures to follow to communicate with your IT team, investigate the issue, and solve the problem. That means that you should also have backup procedures in place, including an alternate network or, if all else fails, good old-fashioned pen and paper in place of a POS system if a threat has been detected.
The Tech You Need to Succeed
Finally, the most successful restaurant managers are those who have the technology to enable them to achieve all of the above and more.
The more you can move away from manual tasks, the less stress you'll place on yourself and your team. You want technology that combines deep, insightful dashboards that automate as much as can be automated, but with the ability to intervene manually as necessary.
You want an app that can live on your phone and your desktop, giving you the ability to move seamlessly between the two without missing a step. You want to be able to schedule employees and work with your team from anywhere, whether you're in the back office, the home office, or darting between tables.
Decision Logic makes this possible. With back-office technology that empowers rather than hinders managers, Decision Logic can provide you with the technology necessary to achieve long-term success while giving your corporate team the visibility into operations they need.