Inventory & Ordering
---
The secret to our inventory system is a streamlined, easy-to-use work flow of ordering, receiving and counting inventory, followed by metrics to help them move the needle.
Ingredient-level reports by day, week or time period, managers can see how close they are to perfect performance.




Detailed COGS reports show them their inventory values based on FIFO methodology.




The ability to receive orders by exception, mobile ordering and inventory, and predictive analytics
We make using a back-office system easy, while still delivering the full details to the executive and administrative teams.
Get a Demo!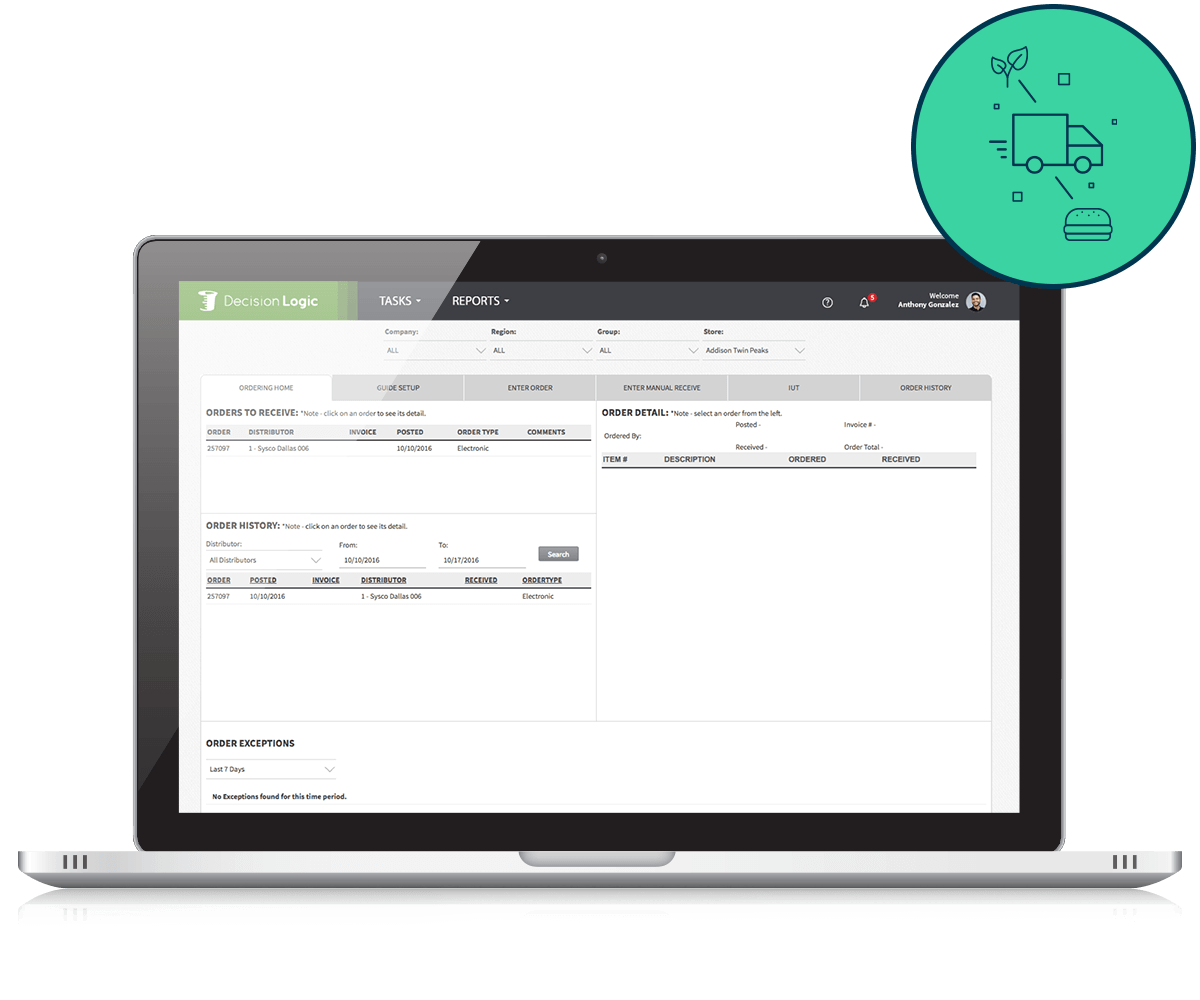 Decision Logic drives profitability to your enterprise by…
---
Identify what's "eating your lunch" through detailed Ideal vs. Actual (IvA) reports, with frequencies of daily, weekly, or by period

Benchmark your individual stores against the rest of the company through usage efficiency reporting

Cut your inventory time in half using the mobile app, available on Droid or iOS platforms

Seamless integration with your food distributors support a "touch it once" model, preventing data duplication errors
Exception-based receiving applies the invoice automatically to your order, only drawing your attention to differences in what you ordered vs. received

Track actual supplier performance using our Distribution Center Report Card to ensure you're getting ALL orders fulfilled, consistently!

Predictive Analytics to reduce learning curve for orders and prep

Maximize manager efficiency by streamlining inventory and ordering process and analysis
The Decision Logic Difference
---
Decision Logic's Inventory & Ordering platform handles the ever-evolving menu changes and supply chain fluctuations common in the hospitality industry. Optimized for multiple concepts, menus and distribution models, the Inventory & Ordering system provides a clear and true understanding of inventory performance.