Decision Logic 5.9 features updates to Employee Central time off requests, SMS notification functionality and a new look to the Manual Receive page.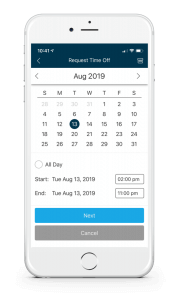 It's a partial day off party 🎉
Managers can enter partial time off requests, or employees can enter their partial time off requests into Employee Central app
Highlights in this release:
 SMS Notifications
Decision Logic app users can now enable SMS notifications
 Manual Receive
Check out a new look and feel to the Manual Receive page from the Order Guide option
More updates in Decision Logic 5.9
Feature Enhancements
Employee Roster

We have a new look and feel to the Employee Roster! Any previous version of the Employee Roster is no longer available.
Employees now receive instructions on how to sign up to Employee Central via the invitation email.

Labor Scheduler

Managers can view/approve/add a partial day off via the Decision Logic web application.
Bugs
Employee Roster

Managers can now properly add/edit a store from an employee's list of stores assigned when adding three or more stores.

Price Change Report

Fixed issue where Price Change Report occasionally added prices together if bid file updates were receiving in the same minute.

Usage Efficiency Report

Raw ingredient waste on Usage Efficiency now properly treats the wasted quantity using the proper measure.

Employee Central

Fixed display issue with older iPhones.

Production Sheet