"Would you like to know our daily specials?"
This is the question that makes even the most decided customer pause and consider. The daily special is much more than an up-selling opening for your servers. When done correctly, a daily special can be just what you need to spice up your menu, decrease food waste, and keep diners coming back on a more consistent basis.
Benefits of Daily Specials
Decreases food waste. In restaurant management, it's common to look at your inventory and wonder what you're going to do with the food whose shelf-life is running out. After all, you can't force customers to order meals that contain those foods, right? In a sense, you can: with daily specials. Take a look at what items need to be used within the next week or two and have your chef develop a new dish that includes these items. You can also highlight an item already on your menu that features these foods, with a discount or deal of some kind tied to the product.
Increases the flexibility of the menu. Doing a complete menu overhaul or even adding a few items to your existing menu can be a long and involved process. That's why many restaurants avoid changing their menu for months or even years. If you create new dishes and offer them as specials, you can add flexibility and variety without the hassle of changing the entire menu.
Keeps customers coming back. Even the most loyal customers may get bored with your restaurant if they've tried everything on the menu and never find anything new. A daily special that continually changes is a great way to incentivize returning customers to come back often to see what's new.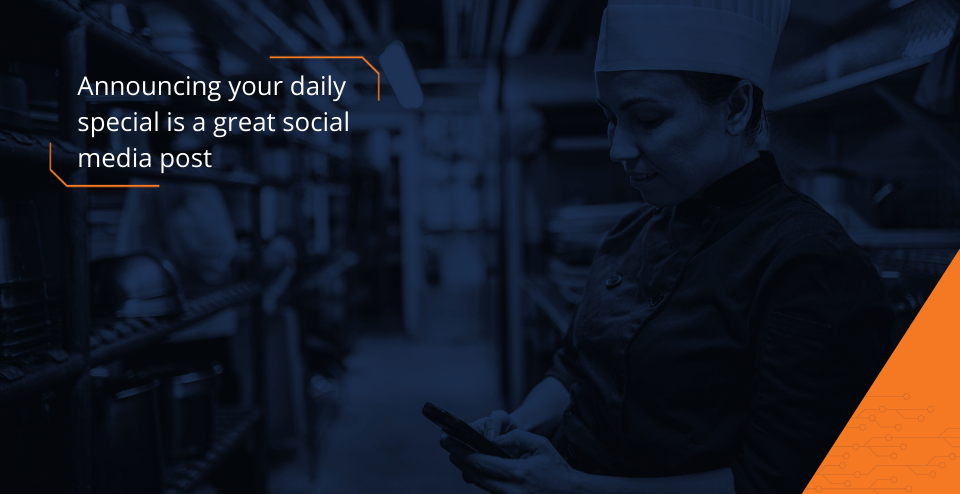 Tips to Make Daily Specials Work for Your Restaurant
Of course, just having a daily special does not guarantee you will see results. Here are a few tips on making sure your special works for your restaurant.
Determine what ingredients need to be used. If you have a good inventory process, you should know which foods will need to be thrown out if they aren't used within the next week or so. If you don't know, it's a red flag that something is wrong in the way you keep track of inventory. Consider using restaurant management software to develop a seamless and efficient inventory process.
Keep it simple and low-priced. There's no reason to go crazy with an intricate dish that requires a long prep time and a multitude of ingredients. Simple, fresh, and in line with the prices on the rest of your menu are the keys to a successful special.
Promote it. No one is going to know to order the special if you don't promote it. Announcing your daily special is a great social media post. You should also train your waitstaff to tell every customer about the special. Other ideas of promotion are writing it on a menu board by the door, using it in a text message marketing campaign, and regularly updating your website with the daily or weekly specials.
Know your intentions. What are you trying to accomplish with your special? Do you want to try out new items before adding them to your permanent menu? Increase traffic on days that are traditionally slow? Use up food that would otherwise be wasted? Once you know your goals, you can better craft your special to achieve them.
When you know the goals of your daily special and put the right process in place to achieve them, a featured dish can add to your restaurant profitability and increase loyal customers. If you have questions about using restaurant management software to accommodate and design daily specials in your business, please email info@decisionlogic.co.