Welcome to Beyond the Menu, a podcast that takes a deep dive into the inner workings of the restaurant industry. Tune into each episode to hear from top tier restaurant operators and innovators who are shaping the industry, spearheading trends, and leading the way for the future.
In this bonus episode, listen to Mandi Wooledge, Decision Logic President and COO, talk to John Montgomery, President of Salad Collective, Snappy Salads, and MAD Greens. With 25 years of experience in the restaurant industry and a tenure at companies such as Noodles & Company and Buca di Beppo, John shares his insights into the rise of convenience, labor challenges, the importance of people, and much more.
Episode Highlights
On the Rise of Convenience in the Fast Casual Market:
Mandi Wooledge, President and COO of Decision Logic
I'm really interested to hear your perspective on how COVID affected the industry. From a customer experience standpoint, you kind of touched on that with the third-party delivery component, but what challenges and opportunities do you feel like your team or your brand encountered and how did you navigate those?
John Montgomery, President of Salad Collective
With third party delivery now being a fairly sizable component of our business, I think there's now a requirement for convenience. It's really the Amazon Prime effect that has changed our culture, changed our expectation as consumers.
Convenience has always been important to me — think about drive-thrus in the 70s or early 80s. But it feels like because we're in this technological stage, this advanced stage of business in our world, that convenience is accelerated. And the pandemic just made it much, much quicker. Maybe it would take three, four, or five years to get to where we stack convenience in terms of importance in our value equation without the pandemic, but it's now one of the biggest requirements for customers.
I would argue that if you're willing to pay a third-party deliverer to bring you some soggy, cold McDonald's fries, that you care more about convenience than you care about quality. And if you're willing to have them deliver you a $7 Starbucks coffee, you don't care about price. If you're willing to pay 30% premium on menu price, you don't care — you care about convenience. And so that I think that is by far the biggest change or how the consumer has pivoted due to the pandemic. What we've done is just to make sure we're there to meet them with that.
On Challenges and Opportunities in the Industry:
Mandi Wooledge, President and COO of Decision Logic
All right, so what do you think is the next big challenge or opportunity?
John Montgomery, President of Salad Collective
As for challenges, it's got to be labor. The shortage of labor right now is forcing us to rethink how we go about our business. And in the supply chain, we're having the same issue. This problem isn't new to you or anybody else listening, because at some point the supply chain will get fixed. That's market dynamics, it works itself out.
What's happening with labor, though, is there's an exodus that's occurring to go do something different. This is the first time where it feels like folks are actually leaving the industry, and it's because the job is becoming too stressful.
It's not providing them the joy that it was years ago, perhaps pre-pandemic, because we don't have enough bodies to help support it. It's resting on the shoulders of a few, and they will break.
I think labor is a real crisis that is not going to be solved in the near term, so thinking about robotics is kind of interesting. DoorDash invested in a company called Chowbotics and they've got this vending machine called Sally that makes salads. The prep work still needs to be done, but the assembly process perhaps is where you can gain some efficiencies through robotics. They're definitely on the path to creating something that will be viable and likely in use and in play in the next five years.
As for other opportunities — I don't know about you, but I'm on my phone all the time. I probably text now more than I ever have in my entire life. And it seems like I just text more and more. Now I have more companies that are in text stream, examples like 'text one that you're coming to the doctor tomorrow' or 'text to take a survey.'
We're in this SMS world, which just feels like we're going back in time, because SMS kind of was archaic at some point. But now, I think like there's this sort of text-ordering thing that could be the future of how we order. I don't know if it's in SMS, maybe it's just inside an app or inside a different platform, but I've been thinking about that. So much of our lives now are in the text stream or chat stream that there's got to be more opportunity to capture some sales in that medium.
Mandi Wooledge, President and COO of Decision Logic
It's really interesting that you bring that up, because that's definitely something that we're trying to do within this next year. To your point, people are so used to being on their phones, everything is on their phone. And trying to give them all the tools that they need in the palm of their hand to be able to do what they need to do is something that we're hearing loud and clear. I'm glad that's resonating with you as well — making sure that those team members have that opportunity. And to your point with the labor shortage, making sure that you have pieces like that to make you an employer of choice to be able to support the team members that you're working with.
On the Importance of People in the Hospitality Industry:
Mandi Wooledge, President and COO of Decision Logic
I think there's still a people component that we've got to make sure that we're homing in on, and to your point, making things more convenient for them to continue to support the hospitality industry. I don't think that they're missing the care, I don't think they're missing what we call the gearshift factor, I think that they're missing the component of, do we make this easier for people?
John Montgomery, President of Salad Collective
That's a good point. It's a people business — it always has been and always will be. Ghost kitchens and things like that: they live in the convenience world. But people want to go to restaurants, they want to see their food being made in front of them. They want to experience the emotions of it, they want to experience the camaraderie, they want to be served. There's so many things there that will never go away in restaurants, and it requires people to do them.
We try to retool once a year. We sit down with all of our team, like our area manager, coach-type folks, and we sit down and say, 'let's pick apart our menu, pick apart our processes, find complexity, and think about how we make it better and easier for a staff to execute.'
That's because the burnout factor is absolutely real. Why are people getting burned out? Because they feel like they're doing something mundane and stupid. We're asking our team to tell us, 'this doesn't make any sense. None of our guests even buy this thing or nobody likes it.' We need to get that out of the equation to make our team enjoy the good parts about work, which is serving guests and putting smiles on faces.
Meet the Guest
John Montgomery, President of Salad Collective
A self-proclaimed restaurant nerd, in 30 years John has only had two jobs outside of the industry, a ditch digger at a natural gas company and an auditor at Deloitte. Both were equally uninspiring to him. Luckily for him his favorite audit client was Buca Di Beppo, where he ultimately landed as their Assistant Controller. In 2002, John moved to Colorado to become Controller of Noodles & Company, leaving to pursue his MBA. In 2008, he took a finance job with fast casual salad company, MAD Greens, and is now President & CFO.
John helped grow the MAD Greens concept to 27 units located in Denver, Austin, and Phoenix. In 2019, MAD Greens acquired 13-unit Snappy Salads out of Dallas. As President of Salad Collective, John oversees all disciplines for both concepts except Marketing and HR. However, some of his favorite days are when the Marketing Team lets him pretend he's part of their team.
When not working, John loves to spend time with his family.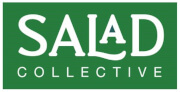 Formed in 2019 with the merger of MAD Greens and Snappy Salads, this con"salad"ated group brings together fast-casual concepts with a shared commitment to fresh, high-quality ingredients, amazing culinary experiences and excellent customer service.