For far too long, the Point of Sale system has been the extent of tech in the restaurant industry. This means there are significant gaps in the types of apps a restaurant concept can lean on for improved efficiency, sales, and reporting.
We're not talking about mozzarella sticks or flatbread missing from the apps list. We're talking about back office apps, which are still viewed as an afterthought by too much of the fast casual industry. That's unfortunate, as back office apps enable concepts to reduce waste, identify areas where margins can be increased, and help employees concept-wide have a better experience and be more productive in their work.
Let's explore 4 different types of back office apps that are out there, with a particular focus on which ones are essential for sparking concept growth and increasing ROI.
Inventory
The right inventory system can be a key differentiator in your ability to reduce waste and maintain adequate supply levels at all times.
A basic back office inventory system will allow you to plug in the most perfunctory of information about the item and then track it from week to week or month to month. But that doesn't really help you determine how much of a given item gets used within each dish, nor gauge popularity of ingredients, sell-through of ingredients, wasted quantities, etc.
When you invest in a back office app that tracks this information at each location, with visibility for all key stakeholders (from the manager all the way up through the VPs and other members of the C-suite), you begin to see precisely where and how to save money. You can pay closer attention to your most popular ingredients on a per entree basis. Conversely, you can gauge your least popular ingredients.
In some instances, you might have one standout dish that's incredibly popular and absolutely can't be tinkered with. But in most cases, you're going to find areas where your menu could actually be reduced, or prices adjusted, to account for supplier pricing fluctuations and overall popularity.
This method of smart inventory gets you out of a robotic system of just ordering the same stuff again and again and again. With the right back office inventory app, you can carefully examine your operations and make changes to accommodate the evolving needs of your business and your customers.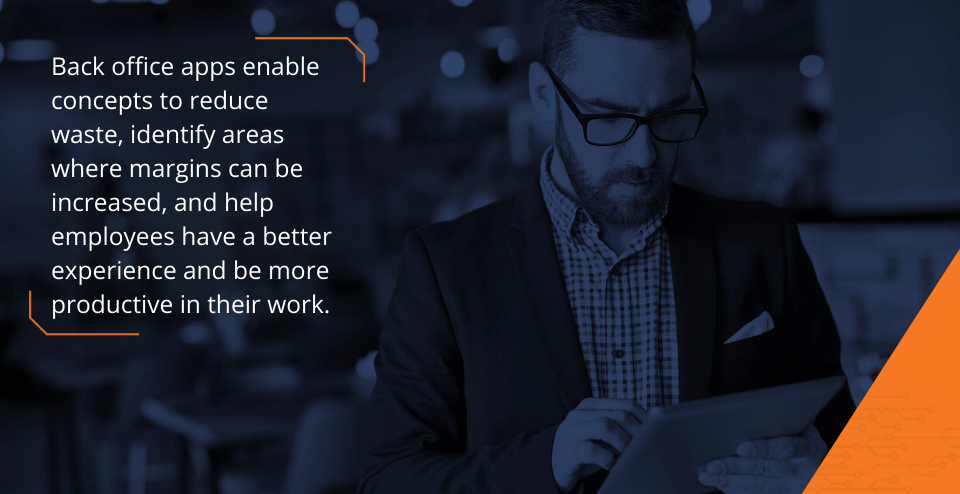 Ordering
Linked inextricably to your back office inventory system is your back office ordering system.
Ideally, these two systems would work in unison to provide general managers with a means of ordering ingredients on the fly, whenever they're running low on an item. He or she would simply make note of the supply level, punch in the amount of the item that they'd like to order, and then move on. At the end of the process, they would have a list of ingredients they can verify and then submit to their supplier.
Ordering becomes even more important when dealing with supply chain constraints. You want an app that's able to predict when things are going to run out based on customer behavior and historic trends, flagging supply levels for review and making it easy to instantly order that item if the risk of a shortage is high.
At the corporate level, you want the ability to push supply and supplier information live to your various managers around the country, with pricing adjustments happening in real time so that both you and your managers can gain an accurate picture of cost and profit.
Sales Reporting
Restaurateurs have more data than ever at their fingertips. It's what you would consider an abundance of choice. That presents a problem in and of itself, as you don't know what's noise and what's actually critical to pay attention to on a regular basis.
A successful back office sales reporting app is one that creates meaningful, easily understandable visualizations, then lets you drill down on key components for further information.
Key metrics you're looking to visualize and track include:
Transactions
Sales versus revenue
Guest count
Dayparting comparisons
Limited time offers
Store vs. store comparisons
Fluctuations by time of year
You also want the ability to create custom reports so that, if there's something specific you want to focus on, you can quickly create your reports on the fly and then use those to make sound strategic decisions for your concept.
Security
Perhaps no back office app gets overlooked more than cybersecurity protection. This despite the fact that a breach of customer data can compromise your carefully built reputation and lead to penalties adding up to millions and millions of dollars.
Don't simply assume that your back office software, or even your POS app, will have the necessary protections in place to ensure data is protected. While almost all will come with some built-in protections, these are often inadequate to meet the needs of the Payment Card Industry Security Standards Council, which has very specific thresholds that all retailers must meet to ensure they're protecting cardholder data.
To meet these hurdles, protections that come standard on POS and back office apps must be supplemented by additional PCI compliance software. This is one type of back office app that should be viewed as a must-have for future growth. Investing early in your expansion journey helps protect your restaurant and your customers from long-term cybersecurity threats.
It may not seem like a big deal now, but it will if you're ever the target of a hacker.
Apps Right to Your Table
With the right group of back office apps, you can turn back office operations that were once an afterthought into a series of strategic processes that help you hit your business goals. Learn more about Decision Logic's back office apps, and see how they can be put to use for your business.