It's not that inventory management for restaurants has never been important. It has. But the pandemic has made razor-thin margins somehow even thinner. To turn a profit, concepts are required to send nearly every portion of every inventory item out the kitchen and onto a plate.
What you can't do is have anything wind up in the trash.
This has led companies to pivot to a greater emphasis on delivery, optimized staff schedules and creative menu choices. The next year will bring plenty of upside to the restaurants who have made it this far, especially as couped-up diners suddenly descend en masse to restaurants they haven't been able to eat inside for years.
But even after you've opened up to full capacity and the vast majority of diners are vaccinated, cost-savings will continue to be important. Closely monitoring Inventory Vs. Actual (I vs. A) food usage numbers and the resulting profits or losses will be a key part of that savings.
We've identified five key reasons that restaurant inventory management will be more crucial than ever in the wake of an age-defining pandemic, including some ways you may not have previously considered.
Addressing Waste
This is perhaps the most obvious reason for careful inventory management, but it certainly bears repeating.
Addressing food waste is one of the easiest ways to make your locations more profitable. If you're throwing out food, that's something you've paid for that did not recoup or exceed your costs.
It's only by carefully managing inventory that you can track the items that get thrown out on a regular basis. Identifying these poor performers can help you identify dining trends, recipe ingredients being over- and under-utilized, and common substitutions. You have so many options for addressing the issue, but it's impossible to take any one of them until you've carefully calculated your I vs. A numbers.
Menu Optimization
One of the best ways to account for food waste based on your inventory management discovery is to optimize your menu.
Are you ordering an ingredient for a recipe that only a small sliver of your dining population orders, leaving crates and boxes to stack up and food to be thrown out? This signals that it might be appropriate to retool a recipe or eliminate an item entirely. This move can trigger pushback from those who think you'll turn off a subset of your customer base, but in many cases, this concern about a "customer favorite" is overblown. Food is wasted for a reason, and most loyal customers will find something better (and more cost-effective for your restaurant) to order.
For poor-performing inventory items that nonetheless have a high profit margin, the answer might be getting more creative with how they're used in recipes. Could a given menu item be retooled to incorporate the low-cost, high-value ingredient while retaining or increasing your margins?
If it's a matter of a high-volume ingredient that you're forced to order in larger quantities than you're going through, come up with reliable specials and other products you could add it to. A promotional push for menu items that contain the ingredient can provide long-term benefits, drawing new customers to those products and helping you maximize the cost of the bulk order slowly over time.
Identifying Location Performance
In addition to raw sales data, tracking I vs. A on a per-location basis lets you identify which locations excel and which have fallen behind sales targets.
It's impossible to overstate how much the pandemic will shape the restaurant industry in the next five to ten years, but that shape won't be uniform. Locations that previously burned through inventory like a revolving door, if they were located in a particularly hard-hit area of the country, could struggle to get product out. A location that had an unstoppable in-person dining presence may not be able to adjust to carry-out business due to its relative distance from heavily populated areas.
Sales will help you paint this picture and identify the performance of these locations, but inventory can provide insights you wouldn't get otherwise. Maybe it's not overall sales that suffer, but a highly specific ingredient that's not selling through in comparison with other locations. Maybe a localized staffing shortage has led to an inexperienced team not accustomed to pushing high-margin dishes incorporating low-cost products. Maybe something overlooked, like the local climate, is causing food items to ripen and rot even a day or two sooner than it would at your other locations.
These insights and more are possible through inventory management, and the data will provide actionable steps you can take to address cost.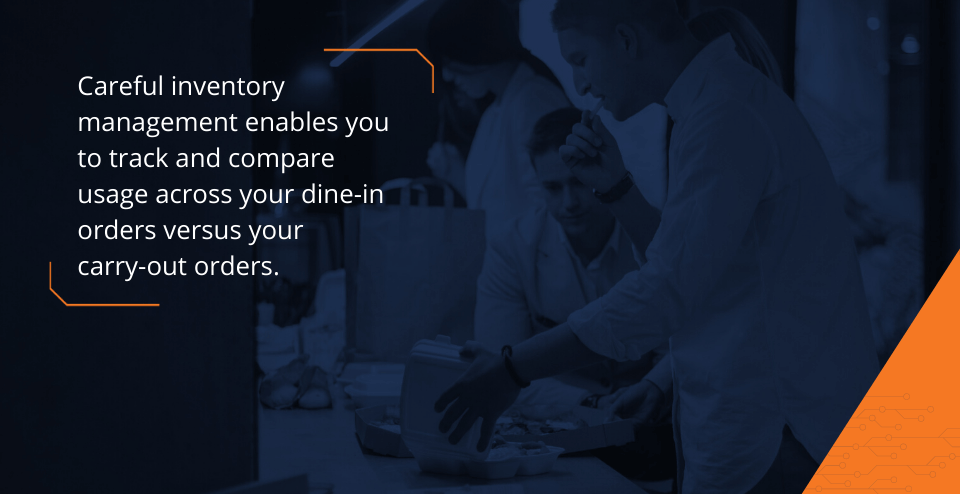 Managing Dine-In Vs. Carry-Out and Delivery Needs
The pandemic transformed the revenue model restaurant chains had been accustomed to. Over the course of weeks and months, the entire industry pivoted to offer a carry-out and delivery experience that would be on par with in-person dining. From fast-casual to the highest-end concepts in the world, no one was untouched by this transformation.
It remains to be seen if this pivot is permanent or a temporary change to accommodate extraordinary circumstances. We expect the delivery and carry-out boom will subside at least partially if not substantially, but it's doubtful it will go away entirely, even as people return to restaurants.
Careful inventory management enables you to track and compare usage across your dine-in orders versus your carry-out orders. Not a lot of macro-level research has been done on this, but anecdotal evidence suggests that, while favorites are favorites whether dining in or carrying out, certain items may perform better in one setting versus another.
Inventory management, further supplemented by dine-in vs. carry-out tracking, will help you identify these trends and determine if adjustments should be made. Imagine, for instance, that a given item does not sell well for carry-out, either because it gets cold too quickly or it's just not the kind of product people are accustomed to ordering to go (such as alcohol). You might be able to adjust your costs to improve margins or craft an entirely separate delivery menu that improves your sell-through.
Tracking Non-Food Supplies
One part of inventory management we haven't yet covered, but no less important, is tracking Non-Inventory Vs. Actual Items.
These are those things that don't spoil but that you still have to replenish on a regular basis. Napkins, plastic cutlery, even sanitization supplies such as masks and disinfectant. Managing inventory of these items is crucial and can reveal hidden or exorbitant costs that you didn't realize you were spending and frankly don't need to be sinking money into.
Consider your delivery model. Many, if not most, restaurants have had to increase their budget line item for disposable forks and knives to provide diners who eat at home. This cost is significant and has even led many online ordering systems to force the user to select if they want utensils.
The problem is, some employees might just get in the habit of throwing these in with every order because it's easier. That will cost you money over time, and it's something you'd only notice and be able to correct through careful inventory management.
Cleaning supplies are another key product to track. You should notice if your employees are burning through masks quicker than they should be, or if disinfectant is being used too liberally. Again, you can break this down on a per-location basis and adjust as needed to optimize your ordered inventory.
Back-Office to the Future
Time will tell what long-term effects will result from the pandemic and what will ultimately be looked at as a novelty. But one thing that can't be ignored is the increased importance of reducing waste and ensuring your restaurant inventory is carefully managed to bring you the highest profit margins possible.
That's not going to change post-pandemic; it's only going to become more important as we settle into the new normal, no matter what that looks like for the restaurant industry.