In today's ever-growing restaurant industry, businesses are vying for customers' attention — from new restaurant concepts to menu changes, new players and veterans alike are creating unique dining experiences to keep their customer base and gain new ones. So how can your restaurant keep up with the competition? By rewarding customer loyalty! Incentives like restaurant loyalty programs are a key way to reward customers for their business, encourage repeat visits, and help differentiate your restaurant from the competition to drive growth and success in the long term.
Let's explore the types and benefits of restaurant loyalty programs and why they are essential for building a strong customer base.
Types of Loyalty Programs
Point-based Loyalty Programs
These are the most popular types of restaurant loyalty programs. This program allows for customers to earn points for each purchase they make, and these points can be redeemed for rewards such as free meals, special offers, discounts, or even restaurant merchandise. Point-based programs are easy to understand and implement, plus some modern POS systems offer the ability to create them within the system itself!
Tiered Loyalty Programs
Tiered loyalty programs offer customers different levels of rewards based on their current "loyalty level". As customers make more purchases at the restaurant, they move up to higher tiers and can receive better incentives. This encourages them to come back to reach the next level and earn more rewards.
Frequency-based Loyalty Programs
This program rewards customers for making a certain number of purchases within a specific time frame — such as receiving a free meal after purchasing a set number of meals within a month. By utilizing this program, customers are encouraged to spend more money and can use this for higher-priced items. Frequency-based loyalty programs are also a great opportunity to facilitate special events or offer you're trying to promote.
Hybrid Loyalty Programs
Hybrid loyalty programs are flexible and can be tailored to fit a restaurant's specific needs such as combining two or more types of loyalty programs to offer customers a variety of rewards. For example, customers may earn points for each purchase they make but the restaurant may also offer tiered rewards based on the number of points earned. More and more restaurants and chains are combining program styles to create these hybrid loyalty programs, such as Taco Bell's mobile app and rewards.
Cashback Loyalty Programs
Cashback loyalty programs offer customers a percentage of their purchases back as a reward. For example, a customer may receive 5% cash back on every purchase, which can be redeemed for future purchases or deposited into their account. This type of program encourages customers to spend more money at the restaurant and can be particularly effective for expensive items.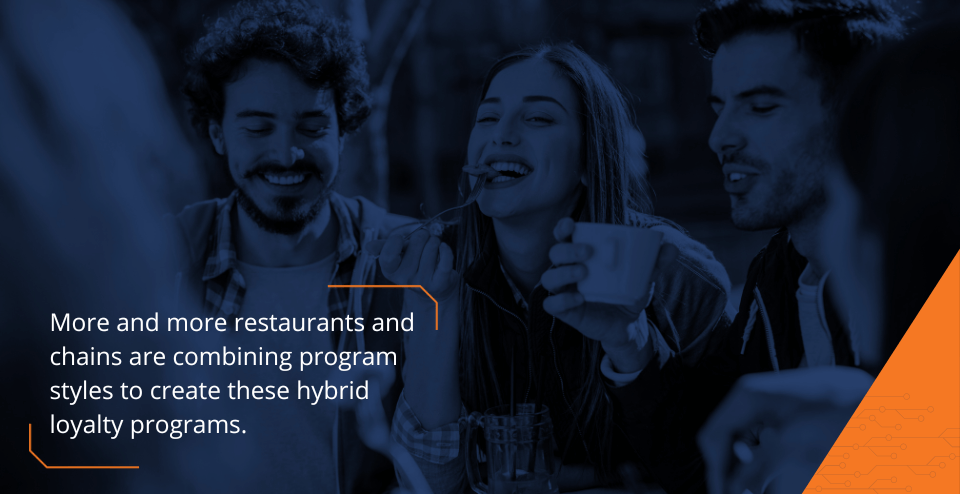 Benefits of Rewards
We know that there are many types of loyalty programs that restaurants can offer to help their business grow, but what are the real benefits? With loyalty programs, customers will feel more valued and appreciated at your restaurant. But that's not all — let's explore other benefits that create a win-win situation for restaurants and your customers.
Increased Customer Retention
One of the key takeaways of restaurant loyalty programs is the increase in customer retention. When customers receive rewards and incentives for their loyalty, they are more likely to return for more! This means that restaurants with loyalty programs have a higher chance of retaining customers than those without them.
Boost in Sales
Loyalty programs can also help restaurants boost their sales. When customers know they can earn rewards or discounts by returning to a restaurant, they are more likely to spend more money and try new items each time they visit. Additionally, restaurants can use loyalty programs to encourage customers to try new menu items, which can lead to increased sales.
Competitive Advantage
In today's highly competitive industry, having a loyalty program can give your restaurant a competitive advantage. Customers are more likely to choose a restaurant with a loyalty program over one without. A well-designed loyalty program can differentiate a restaurant from its competitors, helping it to stand out in the market.
Valuable Customer Data
Restaurant loyalty programs also provide valuable customer data. Restaurants can collect information about their customers' preferences, purchase histories, and demographics. This data can help tailor your menu offerings and marketing campaigns, through email or social media promotions to better suit your customers' needs and preferences.
Improved Customer Experience
Loyalty programs can also improve the customer experience. When customers feel appreciated and rewarded for their loyalty, they are more likely to have a good perception of your restaurant. This increases customer satisfaction, which can lead to positive word-of-mouth referrals and online reviews too!
Cost-effective Marketing
Loyalty programs can also be a cost-effective way to market your restaurant. Instead of spending money on traditional advertising methods, restaurants can use their loyalty programs to incentivize existing customers to refer their friends and family. This type of word-of-mouth marketing can be highly effective and cost-efficient — give it a try.
Building and maintaining customer loyalty is crucial for success and staying competitive, especially in a space where you're competing for similar customers with other concepts. With so many loyalty programs to choose from, these programs can help to build a strong customer base, reward customers for their patronage, and encourage repeat business — improving your customer experience overall. Decision Logic's back office software helps to alleviate the headache of your operations. Let us handle the back office and integrate your tools together so you can focus on building the best loyalty programs for your customers!