Your restaurant concept has more choices than ever when it comes to accounting tools. Perhaps too many choices. Like surfing Netflix for an hour and then just going to bed without watching anything, making the commitment to just one of the many, many restaurant accounting platforms available can be difficult.
At Decision Logic, we offer a back-office management solution, but one thing our solution is not is accounting software. We do, however, integrate with a variety of accounting tools and offer supplemental reports and functionality that can help with everything from reconciliation to budget management, ROI analysis, and more.
As a result, we're unbiased when it comes to your choice of accounting solutions. We do, however, understand what will empower executives and general managers to conduct accounting in a way that's both accurate and supports the long-term growth of your concept.
We've identified five things to look out for when choosing the best software for restaurant accounting. When you're thinking of switching vendors, these are going to be the standout categories that will set you up for success.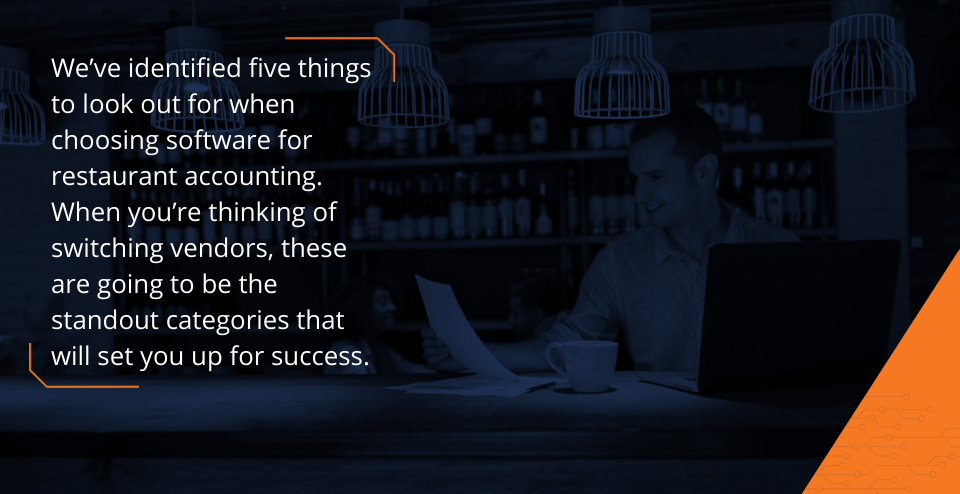 Integration
First things first: if you're considering new accounting software, it must absolutely play nice with your other software solutions.
You'll want to verify that any solution you consider integrates well with your Point-of-Sale software, your back-office solution, your payroll tool (if separate from your accounting tool), and anything else you might use to keep track of transactions. This is typically accomplished via APIs and other secure means of integration.
In some instances, while it may not seem like an integration is possible, you might be able to reach out to either the accounting platform or your other preferred vendor to work something out. Representatives from either company's engineering team may be able to offer custom development to enable your tools to communicate with one another.
Integration is key, otherwise you'll be forced to spend a lot of time manually importing, exporting, and entering in details from one system to another. Which leads directly into the next big thing to keep an eye out for.
Automation
The ability to store your preferences and automate as many processes as you can comes in handy for any accounting solution used by your entire concept.
Ideally, you'll be able to set your preferred parameters to ensure your general managers and accounting team can come back to them again and again. A modern accounting system should enable any user to reconcile inventory, sales, and labor costs from week to week and month to month. Importantly, it should be capable of instilling the same process and workflow from location to location as well.
Detailed profit and loss reports should flow upwards automatically to allow your executive team to have real-time visibility into accounting reports as they're created. That way, you can take note of sales, labor, and ordering trends and react accordingly if you notice a pattern that requires closer analysis. When automated in this way, you're afforded the ability to make fast, strategic choices that can positively impact the long-term viability of your brand.
Uniformity
Going hand in hand with automation is the ability to make processes consistent across your entire concept.
As your concept grows, it becomes increasingly important that your accounting and reports all conform to a standard. When you're monitoring data from dozens if not hundreds of separate locations, the only way to ensure accurate insights is through consistency in the way the data is input, collected, and distributed.
You want to create standardized processes within your accounting software that your accountants can follow no matter where they are in the country or the world. They should be able to conduct business protocols step by step, and your accounting software must report these numbers back to a centralized reporting tool instantly and in the same format each and every time, with dashboards that help you visualize the information quickly.
Without uniformity, too much of your time will be spent manually analyzing discrepancies. It's like comparing apples and oranges when the data was already apples but some locations insisted on calling them oranges.
Don't do that. Insist on comparing apples and apples. Your business and sanity will thank you.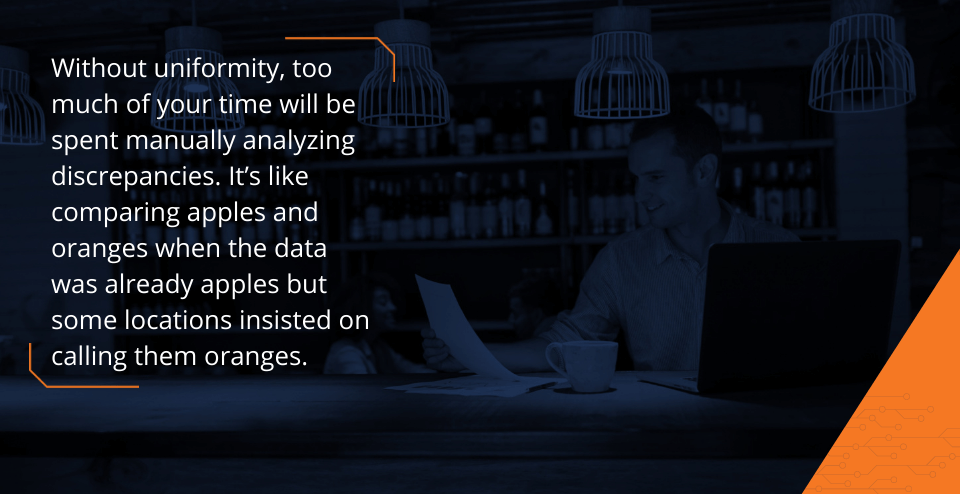 Cloud Storage
The best way to access accounting insights from across your concept is by having that data available whenever you need it, wherever you are.
Cloud storage is essential in this regard. When your data is processed and stored in a cloud setting, you don't have to worry about shoddy internet connections at your locations, emails getting lost in the ether, or waiting for every accountant who reports to you getting their numbers in. All that data is uploaded to the cloud immediately, there when you need to review and use it.
This is also essential for ensuring the continuation of business processes in an emergency. It creates a backup of data that all those with authorization can access, and it ensures technical issues at a single site don't create a black hole of accounting information.
There will still be those times when your IT team must work to get locations back up and running, but the risk of data being lost is kept to an absolute minimum. Because it's in the cloud, most everything should be recoverable.
Security
Finally, any accounting software you use should be secure, with all the protocols you would expect from a modern piece of software.
Two-factor authentication. 24/7 support. Virus and malware protection. PCI compliance. All of these things and more are a must-have when detailing the most sensitive details of your concept. If they aren't in place, you could be putting your entire brand at risk. Were you to suffer a breach, you could lose the trust of your employees and your customers, and you could even be held financially liable depending on what information is compromised.
Security may be the last point on this list, but that doesn't make it last in importance. Security is an essential part of the conversation with your preferred accounting vendor, and if they can't provide assurances that are vetted by your own IT team, you may have to consider other accounting options.
Accounting for Success
If your chosen accounting software can meet the five parameters listed above, you should be in a good spot for long-term success.
As a refresher, the five must-haves when you choose software for restaurant accounting are:
Integration
Automation
Uniformity
Cloud Storage
Security
Solidify these five things and you will be set up well for the future. And if you're ready to integrate your accounting software with the nation's leading restaurant back-office management platform, contact Decision Logic! We integrate with the top accounting vendors and can help you get started fast.