Restaurant operators today have endless opportunities when it comes to technology, including driving sales, increasing profit, workflow automation, and more. But, as the saying goes, just because you can do something, doesn't mean you need to or should. Here's why.
Technology doesn't solve problems. You solve problems with technology and determination.
Just like there isn't a sports team out there without a goal to win a championship, there isn't a restaurant out there that doesn't have goals to increase sales, cut costs, and be more efficient with their operations — so what sets apart operators who win from those who don't?
1. Clearly Defined Operational Objectives
Successful operators don't just stumble upon a solution, they do the necessary prep to understand what exactly they're trying to fix or optimize and then they take action. Before you start scouting products to pilot or purchase, get with the key players of your team to understand exactly what you're looking to accomplish and to make sure it's possible. Consider questions such as these:
Do you need to get labor under control? And what kind of improvement is possible?
What is your current variance vs expected? Are operators already strictly adhering to consistent recipes?
Are there opportunities to improve shift readiness and execution? What are those exactly and how can they be measured and improved?
Clearly define your objective, define the level of change you need for success, and decide on a deadline. Do the research to make sure the desired change and timeline is possible. Ask yourself what happens to your business if the objective isn't met to understand the consequences. Be realistic, and then rinse and repeat for each issue.
All done? Nice! You've now got a list of objectives to act on. Now, figure out which item will provide the largest magnitude of impact and make it your top priority, then move on to the next item until everything has a priority level.
Coming out of this, you'll have your driving mechanisms for change with an understanding of the consequences of failure. This is vital for success.
2. Problem-solving Tech Strategy
Operators who win championships don't get sidelined by the bells and whistles of potential solutions. They refer to their priorities and identify the tools that will get them to the end zone. So, now that you've defined your needs, you can start searching for solutions that align with your objectives.
You'll need to decide if you want to silo systems in a best-of-breed approach, which is generally more expensive and taxing on the operation, or if you want to find a more all-encompassing solution that will be cheaper and easier to maintain but may be lacking some small features.
Remember the 80/20 rule: 80% of the benefit will come from 20% of the features. Focus on what will make the biggest impact on the highest-ranked and most consequential items on your list.
There may be a bit of compromise here or there, but make sure your big boxes have the potential to be checked at a level you can live with. Keep these do's and don'ts in mind:
DON'T get sucked into features outside the scope of your list. Many solutions dazzle you with ancillary features that sound great in theory but will distract from your defined business priorities. Unless the additional features can add impactful value that you hadn't considered before, stay on the straight and narrow of what you need.
DO focus on how each solution listens to your needs and what kind of partner they'll be for you. Being part of the service industry, you're well aware of how important partnerships are in business. The last thing you want is to be nothing but an account number.
Finally, the cost comes into play. It's tempting to think that certain software is commoditized and that the cheapest solution will do. But often, the less you pay in dollars, the more you'll pay in stress and overhead to keep things running.
Technology alone will not solve the problem for you. You'll need to invest time and resources into using these platforms day in and day out. This should be a factor that is discussed and considered alongside ROI calculations.
Ready to make your selection? If you've focused on checking the boxes, and understand the solution, the partnership, and the total cost, it should be a pretty straightforward business decision.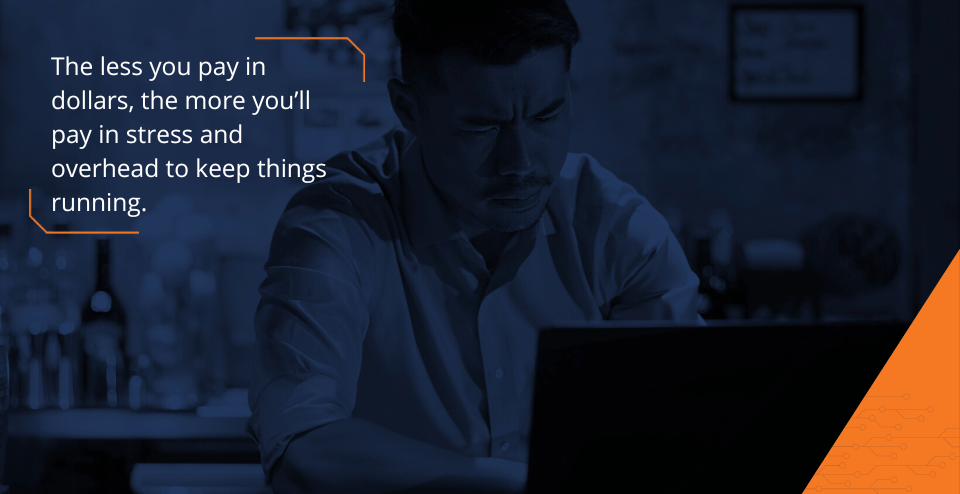 3. Focused Implementation
Any team can come up with a game plan, but winning teams use disciplined execution to achieve their desired outcome. Similarly, choosing the right software was only half of the battle. Now, you need to make sure that the solution you've identified will help you accomplish the goals you need it to. In order to make sure it's meeting your success criteria, you need to outline exactly what success looks like with the vendor; it will hold both sides accountable. Once you figure out the who, what, and when, you'll have a much smoother implementation.
As implementation is progressing, make sure the focus stays on your big goals. Remember that it's not just about getting the software configured, but continually focusing on buy-in from stakeholders and setting up internal systems to be able to train, support and execute the solution. This is a critical point in the journey because rolling out a system without proper training and buy-in can set you back months as you try and unwind the mess.
4. Agile, Repeatable Processes
Teams that repeatedly find routes that get them in the end zone are the ones who win games. By now, you know whether or not what you're doing is working. You've had time to set baselines and test the waters – are you hitting your goals? If yes, awesome! You can now testify to the ROI of your purchase. If you didn't hit your goals, do you understand why? Your chosen solution should provide clear visibility into objective items, and an internal review can unearth things that were missed along the way.
This is where the customer-solution partnership shines through. A good technology partner will spend time to help diagnose and improve not only the inner workings of their own solution but also help you identify any issues with the process. Once the problem is resolved and you're seeing the ROI, you'll be happy you chose a solution that cares about your business and won't leave you to fend for yourself after the sale.
Once you're satisfied with the proof of concept, it's time to set up the full rollout. Do it strategically, with plenty of training support and system oversight to avoid stumbling and all the experience and knowledge you gained from working with the proof of concept. Catch errors as they happen and correct them quickly. A good rollout is a tremendous way to earn buy-in from the system.
5. Consistent ROI Evaluations
A winning team will continuously outplay their competition by thinking one step ahead and not just relying on old or outdated game plans. In terms of your chosen software, understanding that they're also improving their tools as you're improving operations is the winning scenario for your partnership. Ideally, your software will continue to work for you and provide money-saving features that help you run your restaurants better. But, you should still schedule check-ins with your tools and verify they're still doing the job. In some cases, the goal is to maintain certain levels of profit while for others may be a perpetual improvement, so be sure you're evaluating the right thing. If you see undesirable numbers, it's time for the partnership to come together to discuss options.
A good technology provider should also schedule touchpoints with you to understand your new operational initiatives in order to advise on how you can gain more value from the product. Depending on your size, this could be a check-in to see if you want to use a new feature or create some custom development that will highly benefit your business.
These conversations will also allow them to talk to you about changes or enhancements to features that you're using. For new features, the use of "test" stores will be vital to validate new functionality and write training materials. Be diligent and have the business needs and success criteria for any new feature you test. Sometimes, the change is global and the partner should walk you through it to prepare your business for it.
If you notice that your chosen software isn't communicating with you or is falling behind the pace and causing you to lose operational efficiency, it may be time to phase out and move on to something else.
Putting it Together
It's game time, baby. You've now got a plan of attack for how to properly shop, select, start, and continue using restaurant technology. The most important part of this process is understanding what it is your business needs in order to succeed. While software can be incredibly helpful in achieving your goals, it's still a tool that needs to be properly implemented, managed, and evaluated by you and your team to achieve success.
Whether it's inventory, sales reporting, labor management, or the like, our team at Decision Logic can provide you with rockstar software that gives you the tools to transform your restaurant operations like a pro. Get in touch with us to learn more, and let's start winning together!