As part of his filmmaking process, Alfred Hitchcock was famously strict about storyboarding every shot of his movies. He assumed that the more he planned before a single frame was committed to film, the better the final result would be. And given how many classics he turned out, it's hard to argue with the result.
This commitment to planning holds true for restaurant operations. The more you can prepare in advance of guest arrival, the likelier you are to provide an incredible customer and employee experience and increase your revenue potential.
Sure, Hitchcock never had to deal with an angry customer, or a kitchen staff that called out sick because of COVID. But if you follow the right steps and "storyboard" your own operations, you can set yourself up to weather these and other obstacles.
Here are the restaurant opening tips you can't go without.
Have a Process
The worst restaurant opening process you can have? Not having a process at all.
That sort of thing might fly when you've opened your first restaurant and you're responsible for all aspects of operations. But as your concept grows, you bring in new staff members, and you open new locations, you need to be able to recreate your recipe for success. And to do that, your operational steps are just as important as the steps to create your menu items.
Create a process and document the process. You'll be glad you did when you expand and have a successful blueprint you can immediately turn to.
Train Multiple Staff Members
Don't just assume each location under your purview should have one person responsible for closing, one for opening, one for food prep, etc. In today's staffing situation, team members from all aspects of your restaurant could be called upon to carry out tasks that are outside their normal scope of work.
The only way you can set your staff members up for success is if you cross-train them. You could have a go-to team who knows just what to do to have your restaurant ready to go when the doors open, but you can never know for sure when those employees leave or call out sick.
Train people across their job titles. This has an added benefit to the employee experience, as it gives everyone insight into the challenges and opportunities of each role. It can lead to in-company growth and set people up for promotions, reducing turnover even while improving the guest experience because you have a team prepared for multiple positions.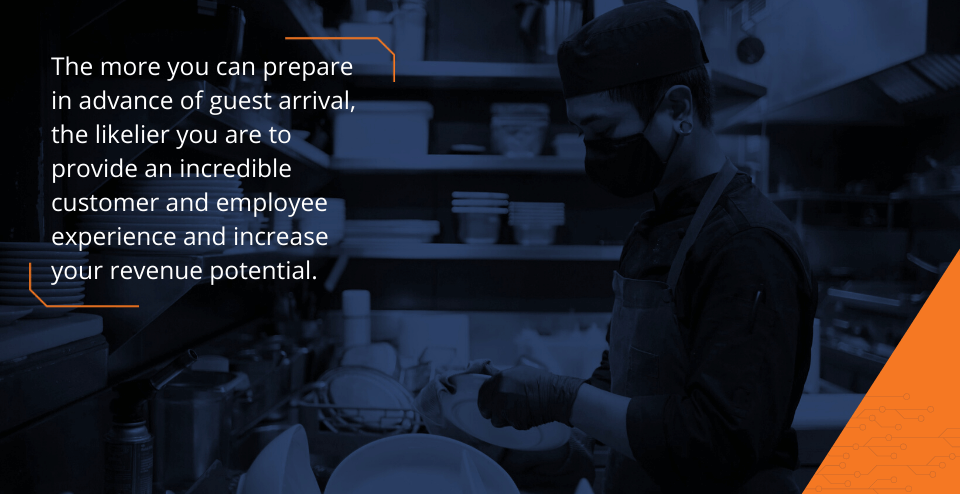 Take Inventory, then Review and Adjust Upcoming Orders
Now we can really get into the meat of restaurant opening.
The best time to take inventory is prior to opening, when you and your team can focus on this specific task without guests coming through the door.
Take stock of everything you have, tracking this information carefully in an electronic system with updated prices and quantities. Make sure your supply count matches the electronic system, rather than vice versa. This "shelf to sheet" method is preferred because it ensures all items make it into the system, whereas starting with your e-database of inventory could lead to oversights if items aren't listed, because you'd never know you missed a count of physical inventory.
When you have your inventory carefully counted, you can then review and adjust your orders as necessary. You may do this daily, but more likely you're carefully tallying your numbers on a weekly basis, only pushing emergency orders through if something is running dangerously low.
You'll want a system that carefully tracks supplier quantities and the prices being charged, along with a historic record of your previous orders. That way, you can make note of when prices rise (particularly important during these inflationary times) and adjust your orders if you need to.
Conducting inventory in this manner can reduce waste and help you focus on the task at hand, eliminating errors that can cost you money and freeing you up to focus on guests when your restaurant opens.
Handle as Many Back Office Tasks As You Can
In fact, pre-opening is when you'll want to carry out as many back office operations as possible.
Scheduling. Accounting. Register prep. Reviewing your IT situation. Any and all of these things can be handled prior to your store actually being open.
Now, let's be realistic: sometimes this simply isn't doable. Being in the restaurant industry, you already know you have around 20 hours of work competing for about 12 hours of time. Which means you'll necessarily have to double dip.
Being able to oversee these tasks on the go, from a mobile device, certainly helps. It lets you get out of the office and help guests even as you handle many of the back office duties that are essential to operations.
But if you can take even one of your tasks and let it be part of your opening ritual, you could find that you're able to optimize your time in other areas.
Prep, Prep, Prep
Whatever you can prep before your restaurant opens, you should prep before your restaurant opens.
Chopping and portioning ingredients, readying soups (and other dishes that won't go bad), washing and gathering your dishes and silverware, stocking the bar, and cleaning the entire restaurant are essential to get done ahead of time. You'll of course want to do so according to food cleanliness and temperature best practices, making sure that your items are at the level of freshness guests expect.
The more you can take care of prior to opening, the less pressure on your staff when the doors open for the day.
Think About What Your Opening Hours Really Mean
In today's restaurant space, an opening time can mean different things.
If you "open" at 11 am, is that the time guests can start being seated? Is it when orders can be placed, picked up, or delivered? The answers to these questions can mean very different things for your operations. Because if an order can be picked up starting at 11, that means you're probably going to have to begin taking and preparing orders at 10 or 10:30. For all intents and purposes, that means you're open at 10 am, not 11.
When there's a miscommunication about what your opening time means, it can lead to employees being overworked and your kitchen getting backed up. If your team starts at 11 but your third-party ordering platform starts putting in orders at 10, you're going to start your entire day at a disadvantage, struggling to crawl out of a hole you didn't have to be in.
Establish what being open actually means, and make sure every member of your team understands the expectations surrounding that.
Review, Revise, and Retrain
Finally, recognize that no opening procedures are set in stone.
You'll discover new best practices as you go about your day-to-day business. You'll see operational efficiencies and be able to adjust as necessary.
When you do this, you need to make sure these adjustments are documented and get deployed to all locations. You'll also need to train employees to follow the new procedures.
Continual improvement ensures your team is united around a common goal and a set of best practices that help you achieve that goal. And this is something that doesn't just apply to opening your restaurant, but to every aspect of your operations.
Want more help making your restaurant opening procedures more efficient? Contact Decision Logic to see how we can help streamline your operations!