If you've ever worked in the restaurant industry, you know that line checks are essential for maintaining food quality, customer safety, and brand consistency. For those who aren't familiar, a line check is a process where a manager or lead server inspects the kitchen's food and beverage stations before service begins. The goal of a line check is to ensure that everything is prepped and stocked, equipment is in good working order, and the kitchen is clean and organized. Line checks are an essential part of smooth operations in a restaurant ‑ allowing you to catch problems before service starts and prevent mistakes that could impact a customer's dining experience. Let's take a closer look at what goes into a typical line check and how you can improve your process.
What Goes into a Line Check?
Performing a line check involves a thorough inspection of the kitchen, prep stations, and front-of-house areas to ensure that everything is prepped and stocked, equipment is in good working order, and the restaurant is clean and organized.
Start with a Checklist of Items
Create a line check checklist that includes all the necessary items to be checked during the inspection. This may include equipment, food items, prep stations, bar supplies, and front-of-house areas.
Keep a Schedule
Determine the best time or times to perform the line check for your operations. Performing multiple line checks a day can help ensure brand consistency and make sure food is going out the right way all day. Some example times to perform a line check are 30-45 minutes prior to the opening shift, mid-day after the first few hours of operation, 30-45 minutes prior to the evening shift, a few hours after the evening shift, and finally at the end of the shift.
Inspect Your Equipment
All cooking equipment should be in clean, working order throughout the day to allow your team to be ready during any shift. Verify that all cooking surfaces are clean and ready for use, the refrigerator and freezer are at the correct temperature, thermometers are available to monitor correct cooking and serving temperatures, and your date and time stamps are accurate to ensure proper food rotation.
Inspect the Front-of-House
The first point of contact that your customers have before they even receive their food is the front-of-house, making it just as important to monitor during a line check. Check that all tables are set up correctly, including the placement of flatware, glassware, and condiments. If your restaurant has a bar space, make sure that it's stocked with all necessary glassware, ice, and beverages.
Verify Cleanliness
Verify that all areas of the restaurant from front-of-house to back-of-house are clean and free of messes. All surfaces should be clean and sanitized before food preparation and should be kept clean throughout meal prep. This includes checking that floors, surfaces, and even walls close to the food prep area have been properly cleaned and sanitized.
Plan Ahead & Take Corrective Actions
If any issues are found during the line check, take corrective actions immediately. This may involve restocking supplies, cleaning equipment, or talking to your team to help keep everyone honest and on the same page. Having extra supplies, tools, and training available to team members of all levels can help speed up fixes when problems arise.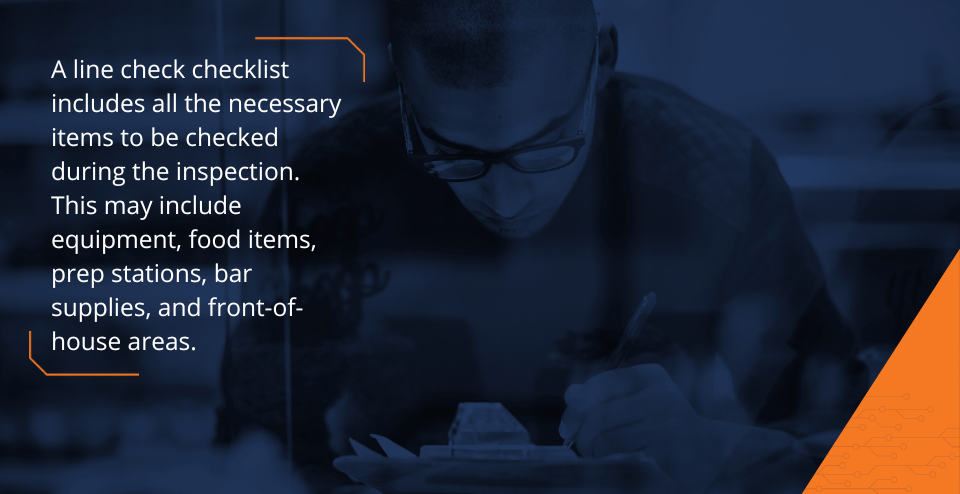 Line Check Challenges
There are a lot of moving parts when performing a line check, and plenty of opportunities for problems to show up during the process. They require a lot of attention to detail, organization, and effective communication in order for them to be successful.
Time Management
One of the biggest challenges is effectively managing time during a line check. If each manager or team member has their own process for handling line checks, it's much harder to guarantee how long a check will take. It's essential that the check is completed before the restaurant opens, but also to make sure that it's thorough and accurate.
Consistency
Another challenge is ensuring that the line check is consistent across different shifts, days, and team members. This helps to ensure that the quality of the food and the service is consistent. If you have multiple locations, or even loyal customers at a single location, they come to expect certain characteristics and qualities in your food. Consistency in line checks helps to maintain your brand identity.
Communication
Effective communication is crucial during a line check. The team members performing the check must communicate clearly with each other and with the kitchen staff to ensure that any issues are addressed promptly and to avoid instances of "double work" occurring.
Documentation
Failure to keep good records and documentation can create issues for your team. Keeping accurate and detailed documentation of the line check is important for future reference and for addressing any issues that may arise during the process.
How to Improve Your Line Checks
So, are these challenges an unavoidable byproduct of doing a line check?
Nope – there are tools that can make doing your line checks more accurate and easier!
We talked about how some of the biggest challenges are time management, consistency, communication, and documentation. With tools such as the Decision Logic Digital Manager mobile app, it's easier than ever to tackle these challenges. You can manage your line checks on the go, sync thermometers to the app using Bluetooth, view a photo feed of line checks across shifts, easily share data between the team, and a lot more.
Line checks are the backbone of successful restaurant operations and are part of the path to an excellent customer experience. Contact us to see the Digital Manager in action and start improving your line check process.