Tired of having to sit down and figure out your employee schedules manually with sticky notes, whiteboards, and more? Sounds like you need smart scheduling software!
Using employee scheduling software simplifies the process of creating and managing your employee's schedules to help save you time and prevent last-minute headaches. The best types of this software automate staffing adjustments, optimize schedules, assign shifts, and much more. By making your restaurant scheduling easy, you can experience the freedom of smart scheduling with a single point of entry, making it an essential management tool for your back office. Let's explore some of the benefits you gain while using a powerful scheduling tool for employees.
Fewer Scheduling Conflicts
There are a couple of common scheduling conflicts that most restaurant owners and managers face including double-scheduling, overlapping schedules, scheduling someone when they're unavailable, and unbalanced shift distributions. With the right software, you can track who's scheduled and can automatically alert managers when they are overstaffed, understaffed, have uncovered shifts, or even back-to-back shifts — ensuring that the right people are in place for productivity and a streamlined experience.
Automated Time Off Requests
Scheduling software helps prevent schedule change requests from being misplaced or overlooked. By being able to submit requests online, managers can see in real-time if they need to approve or deny a request or shift swap at the touch of a button. Employees can also message other co-workers and managers to ask to find a shift to help them swap in a timely fashion.
Real-Time Access
Technology is everywhere and of course, it's been a part of the restaurant industry for a long time. Employee scheduling software with online access to employees' schedules can be automatically updated to reflect any changes that are made, enabling employees to be able to view their shifts from any mobile device wherever they may be.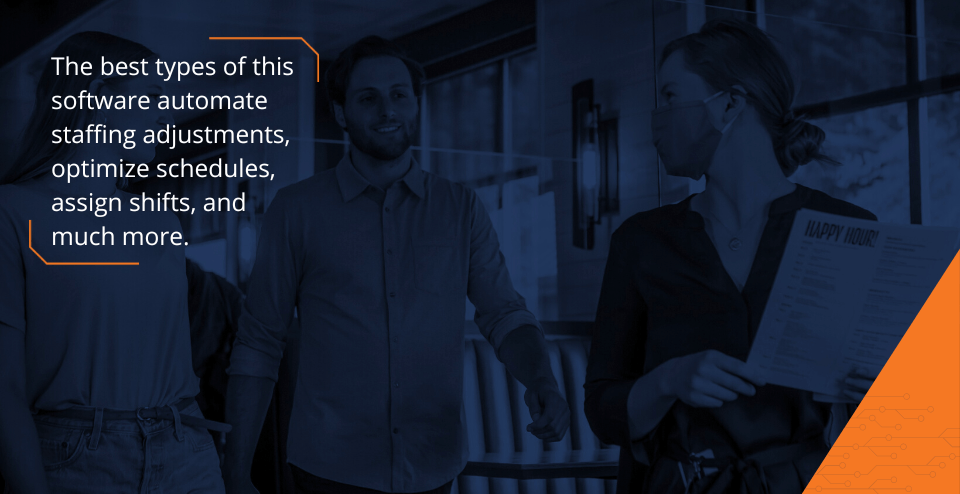 Reduced Labor Costs
Software with real-time analytics can show you estimated schedule costs, actual vs scheduled hours, breaks, overtime, and hours earned to help keep you on track when calculating costs for each pay period or planning schedules strategically.
Communication Between Staff
By staying in touch with your team, you can keep expected duties and messaging simple and effective. Scheduling tools allow you to publish schedules and communicate shift changes to the whole team. These tools also enable managers to send push notifications to select employees or the whole staff when there are new assignments, menu changes, unexpected weather closures, and more.
Better Convenience and Experience
Taking out the time-consuming process of managing schedules, this software allows managers and employees to play a more active role in their work experience. From reducing the amount of time people show up to the wrong shifts, to the added convivence of viewing schedules online, the ease of access keeps human error to a minimum.
The Best Employee Scheduling Software for You
Finding the right software to fit your needs is always a challenge, as every restaurant operates in a way that works best for itself. That's why it's best to find a partner who understands the industry on a personal level and can tailor the tech to what works best for your team.
Decision Logic is back-office software built BY restaurateurs FOR restaurateurs. When it comes to a suite of powerful software to keep you out of the office and on the floor, we got your back office.
The Decision Logic Labor and Schedule tool allow you to see the difference in your team and numbers by increasing report accuracy, formalizing employee accountability, and eliminating the need for duplicate entry of sensitive information. Our Scheduled vs. Actual labor report gives you the power to maximize staffing efficiency, and the simplified workflow will save you and your employees' plenty of headaches. Employees can view and communicate announcements, shifts, and requests all within the Employee Central app, checking your boxes for accountability and increasing autonomy for the whole team.
Contact us today for a free demo, and see firsthand how Decision Logic can revolutionize your labor.