In today's restaurant industry, you have enough on your plate to be actively worrying about the back office. Now more than ever restaurants are needing cutting-edge technology to make back-office management easier so time can be spent on what matters most: taking care of their customers. Thanks to innovative solutions such as restaurant management apps and restaurant management systems (RMS), these digital tools have emerged as powerful allies for restaurant staff and managers alike, offering a streamlined approach to handling the complexities of running a restaurant every day. From optimizing inventory and enhancing customer experiences to boosting operational efficiency and helping with data-driven decision-making; restaurant management apps have become companions to success. Let's dive into the dynamics of restaurant management apps and how they allow restaurants of all shapes and sizes to operate and thrive.
First of All — What is Restaurant Management Software?
Restaurant management software helps restaurant owners and managers run a restaurant end to end. They can use these tools to keep track of inventory, payroll, orders, and analytics for maximum effectiveness. The best types of restaurant management software offer a companion app or fully-fledged mobile application without sacrificing functionality. With staff needing to be constantly on the move and with varying schedules, having a restaurant management app is a game changer. These modern systems can even be seamlessly integrated into your POS System to make it even easier.
Benefits of Restaurant Management Software
Having Real-Time Access
Your analytics can be accessed through cloud-based software that allows the flexibility to connect to your business from any device, anywhere, and at any time. Having real-time access can profoundly impact the efficiency, decision-making, and overall success of your restaurant. Managers can make timely decisions on the spot during a sudden rush, determine how much waste is generated after a shift, update menus based on ingredient availability, and much more.
Eliminating Human Error Through Automation
By embracing restaurant management software, you can significantly reduce human error that often arises from manual processes. Seamless integration of these apps and software with other restaurant systems not only enhances operational efficiency but also significantly reduces the need for workarounds. This ensures that your operations are streamlined, minimizing the potential for mistakes caused by manual data handling. By utilizing restaurant management software, you enable your staff to simplify cumbersome processes, ultimately saving time and effort. These programs also facilitate smoother data transfers across various functions, including inventory management, reporting, and labor management. This centralized approach ensures that data is consistently up-to-date and securely stored in the cloud, minimizing the risk of inaccuracies. As a result, the integration of restaurant management software acts as a powerful tool in eradicating human error and promoting operational precision.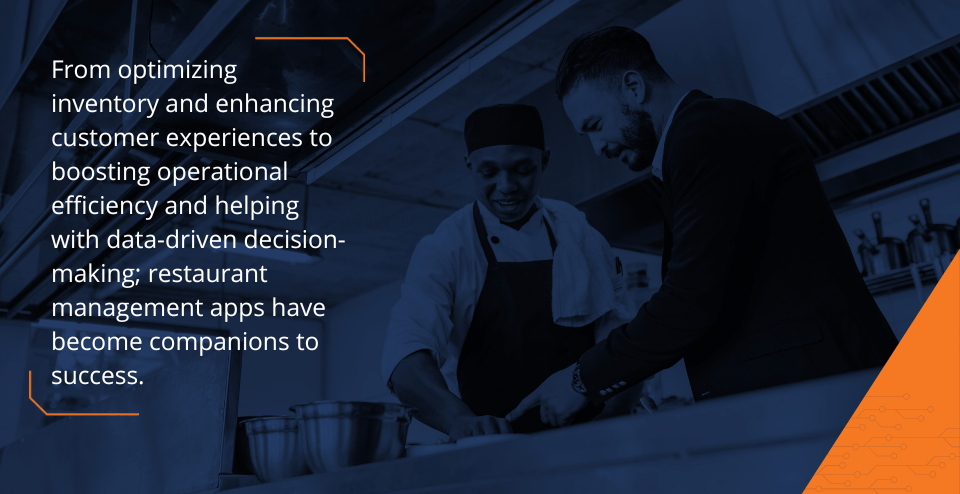 Menu & Recipe Adjustment
Restaurant management software revolutionizes menu and recipe adjustments by leveraging real-time data insights, inventory monitoring, and cost analysis. Managers can make informed decisions about modifying, replacing, or repricing menu items to cater to changing tastes and ingredient availability.
Controlling Food & Labor Costs
With ongoing supply chain issues, it's a huge help that restaurant management software enables managers to monitor ingredient usage, identify menu trends, and optimize ways to reduce waste and minimize overstocking. Having a system in place to better plan orders and prep, can also help inform staff scheduling, factoring in peak hours and customer traffic while giving insights into employee performance and productivity.
Simplifying Payroll
Restaurant management software offers a streamlined solution for simplifying the complex process of payroll. By automating employee work time and tip distribution, the software accurately records hours while making splitting the tip pool as easy as pressing a button — eliminating the need for manual data entry, and causing human error. The software can also integrate with staff scheduling, allowing managers to align actual worked hours with the scheduled shifts with a simple click. Restaurant management software empowers businesses to handle payroll effortlessly, freeing up resources to focus on delivering exceptional experiences.
Try the Digital Manager App
The Decision Logic Digital Manager mobile application empowers operators to efficiently complete tasks using their smart devices, resulting in reduced inventory processing time. It ensures line compliance by seamlessly integrating the TheroWorks Bluetooth probe for instant temperature recording. This versatile tool supports multiple line check types, including image capture for quality assurance, real-time waste tracking, labor schedule viewing, shift swapping, electronic ordering from integrated distributors, and comparative analysis of sales and labor data across days, weeks, and years. With the Decision Logic Digital Manager App — smart work prevails over hard work, as it automates line checks, waste reporting, and recipe management. The app seamlessly adapts to your current software, freeing up managers from the back office and enabling them to prioritize your customers.
To Fix a Problem, Sometimes You Just Need the Right Tool for the Job
Technology is reshaping the way we manage back-office tasks. Restaurant management has undergone a powerful transformation, thanks to ongoing developments in solutions like restaurant management apps and restaurant management systems (RMS). As the industry continues to modernize, these digital tools have become essential for staff at every level, streamlining operations in a busy environment.
We've explored their ability to provide real-time insights, eliminate errors, adjust menus, control costs, simplify payroll, and more. The Decision Logic Digital Manager app takes this further, allowing operators to complete tasks using smart devices, ensuring compliance, and automating various processes. Contact us today to schedule a demo!